Meet us at the Drive-IN movie theater for a FUN-draiser, featuring the family friendly movie Rudy!
Wednesday, May 24
at Boulevard Drive-In
Doors open at: 7:00pm
Movie starts at: Dusk
Arrive at 7 p.m. for your children to enjoy inflatables, magic show, photo booth, airbrush tattoo artist, balloon artist and food.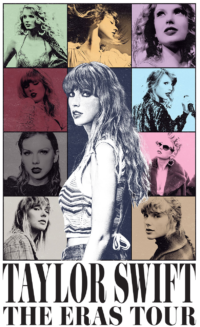 At the drive-in, EMBRACE will be raffling off 2 tickets to the Taylor Swift The Eras Tour on July 7, 2023 @ Arrowhead Stadium. You don't need to be present to win. Don't miss out!
Come join in the fun! Check out our sponsorship opportunities
Presenting Executive Producer Sponsorship
$
10,000
Tax Deductibility ($9,450)
Sponsor name/logo featured on official event name

Pre and Post Event recognition on main marketing materials, website, Social Media, Bidpal page, and all event communications with company website link

Recognition during welcome remarks and with a large logo displayed during the pre-film slide show

Includes entry for up to (5 vehicles) with VIP Parking *All cars/guests must pre-register

Dinner for you and your guests with VIP delivery

Gift basket with popcorn, drinks, and candy of your choice for you and your guest

Fast Pass wristbands to all carnival activities before movie for you and your guests
Director Sponsorship
$
5,000
Tax Deductibility ($4,540)
Pre and Post Event recognition on main marketing materials, website, Social Media, Bidpal page, with company website link

Recognition during pre-film slide show and with your logo displayed

Includes entry for up to (4 vehicles) with VIP Parking *All cars/guests must pre-register

Dinner for you and your guests with VIP delivery

Gift basket with popcorn, drinks, and candy of your choice for you and your guest

Fast Pass wristbands to all carnival activities before movie for you and your guests entry for up to (4 vehicles) with VIP Parking *All cars/guests must pre-register
Actor Sponsorship
$
2,500
Tax Deductibility ($2,130)
Pre and Post Event recognition on main marketing materials, website, Social Media, Bidpal page with company website link

Recognition during pre-film slide show and with your logo displayed

Includes entry for up to (3 vehicles) with VIP Parking *All cars/guests must pre-register

Dinner for you and your guests

Gift basket with popcorn, drinks, and candy of your choice for you and your guest

Access to carnival activities before movie
Editor Sponsorship
$
1,000
Tax Deductibility ($720)
Pre and Post Event recognition on website, Social Media, and Bidpal pages and with company website link

Recognition during pre-film slide show and with your logo displayed

Includes entry for 2 vehicle with VIP Parking *All cars/guests must pre-register

Dinner for you and your guests

Gift basket with popcorn, drinks, and candy for you and your guest

Access to carnival activities before movie